The Surround Music Awards honor those who have excelled in multichannel music recording and mixing throughout the year. Previous winners include Queen, James Taylor, The Who, Led Zeppelin, Pink Floyd and Alison Krauss. Winners are selected by a blue-ribbon panel of judges from the Surround Sound industry.
The Surround Music Awards are part of the Surround 2005 Conference and Showcase, which took place at the Beverly Hilton Hotel on December 15-16, 2005.
(Beverly Hills, California -- December 15, 2005) In a gala event at the Beverly Hilton Hotel, the 2005 Surround Music Awards announced this year's winners. The event, hosted by Ed Cherney and Elliot Scheiner – along with some help from past host Al Schmitt – was highlighted by the presentation of the 2005 Surround Artist of the Year to Jackson Browne by the members of his Running On Empty band, Russ Kunkel, Leland Sklar, Craig Doerge, and David Lindley. Following Browne's acceptance speech, singer/songwriter Andrew Gold and Jerry Foskett from the Brian Wilson Band acoustically performed two Jackson Browne hits – Running On Empty and Stay.
The SMA winners were announced at a glittering event held in Beverly Hills, California. It was a homecoming of sorts for the Surround Music Awards ceremony that forms the centerpiece of the annual Surround Conference and Expo. After 2004's detour combining the specialized Surround Conference with the broader Entertainment Media Expo, Surround 2005 recovered its original mission and focus as a standalone event for recording industry professionals. Once again occupying its familiar venue at the Beverly Hilton Hotel in Beverly Hills, California, the two-day Conference brought together a diverse array of engineering, business, and artist perspectives in a series of seminars and demos, with the first day culminating in the 4th annual Surround Music Awards, a celebration and recognition of the finest surround music releases of the past year.
As in the past, the award winners were selected by a panel of fifteen industry professionals chaired by event producer Bobby Owsinski. An additional High Fidelity Review Listener's Choice Award was determined by a majority vote in an open poll.
The fourth annual SMAs were presented by surround sound pioneers DTS.
List of categories and nominees includes:
BEST MADE-FOR-SURROUND TITLE

Crossing; David Elias [Sketti Sandwich Productions]
Deadwing; Porcupine Tree [DTS Entertainment]
Guero; Beck [IGA/Interscope]
With Teeth; Nine Inch Nails [IGA]
Poncho at Montreux; Poncho Sanchez [Silverline Records]
BEST MIX: NON-ORCHESTRAL
Crossing; David Elias [Sketti Sandwich Productions]
Genius Loves Company; Ray Charles [Concord Records/Hear Music]
Girl in the Other Room; Diana Krall [Verve]
Running on Empty; Jackson Browne [Rhino Entertainment]
Talking Heads DualDisc Box Set; Talking Heads [Rhino Entertainment]
BEST MIX: ORCHESTRAL
Reich at the Roxy; Alarm Will Sound [Sweetspot Music]
Rosza: Ben-Hur Suite, Cincinnati Pops [Telarc]
Tchaikovsky's The Nutcracker, London Symphony Orchestra [DTS Entertainment]
The Making of a Performance: Tchaikovsky's 4th Symphony; The San Francisco Symphony and Michael Tilson Thomas [SFS Media]
BEST MULTICHANNEL REISSUE
461 Ocean Blvd.; Eric Clapton [Polydor/Chronicles]
Captain Fantastic; Elton John [UME/Chronicles]
Singles 1969-1981; The Carpenters [A&M/Chronicles/UME]
Tumbleweed Connection; Elton John [UME/Chronicles]
Willy Porter; Willy Porter [Six Degrees Records]
BEST STANDARD RESOLUTION TITLE
In Search Of...; N.E.R.D. [Virgin Records/DTS]
One Soul; E3 [Sweet Spot Music Group/3 Bone Audio, Inc.]
Play; Peter Gabriel [Rhino Entertainment]
Talking Heads DualDisc Box Set; Talking Heads [Rhino Entertainment]
HORIZON AWARD [BEST NEWCOMER TO SURROUND]
Be My Love; Kip Wilborn [sam n rose, inc.]
Bold and Terrible; Pentamental [Subternal]
Feels Like Family; Lauren Ellis [Silverline Records]
Poncho at Montreux; Poncho Sanchez [Silverline Records]
The Downward Spiral; Nine Inch Nails [IGA]
The Making of a Performance: Tchaikovsky's 4th Symphony; The San Francisco Symphony and Michael Tilson Thomas [SFS Media]
MOST ADVENTUROUS MIX
Coltrane's A Love Supreme Live in Amsterdam; Branford Marsalis [Marsalis Music]
Guero; Beck [IGA/Interscope]
In Search Of...; N.E.R.D. [Virgin Records/DTS]
Talking Heads DualDisc Box Set; Talking Heads [Rhino Entertainment]
With Teeth; Nine Inch Nails [IGA]
BEST CONCERT VIDEO
Coltrane's A Love Supreme Live in Amsterdam; Branford Marsalis [Marsalis Music]
Grateful Dead Movie; Grateful Dead [Monterey Home Video]
Live at the Apollo; Ben Harper & the Blind Boys of Alabama [5.1 Production Services]
Poncho at Montreux; Poncho Sanchez [Concord Picante/5.1 Production Services]
The Making of a Performance: Tchaikovsky's 4th Symphony; The San Francisco Symphony and Michael Tilson Thomas [SFS Media]
BEST DUALDISC RELEASE
Feels Like Family; Lauren Ellis [Silverline Records]
Never Gone; Backstreet Boys [Jive]
Talking Heads DualDisc Box Set; Talking Heads [Rhino Entertainment]
The Downward Spiral; Nine Inch Nails [IGA]
With Teeth; Nine Inch Nails [IGA]
LISTENER'S CHOICE AWARD
Brothers in Arms; Dire Straits [Warner Bros.]
Crossing; David Elias [Sketti Sandwich Productions]
Master of Disaster; John Hiatt [New West]
Music for Organ, Brass & Timpani; Anthony Newman & the Graham Ashton Ensemble [Sonoma]
Brick; Talking Heads [Rhino]
Something to Be; Rob Thomas [Atlantic Records]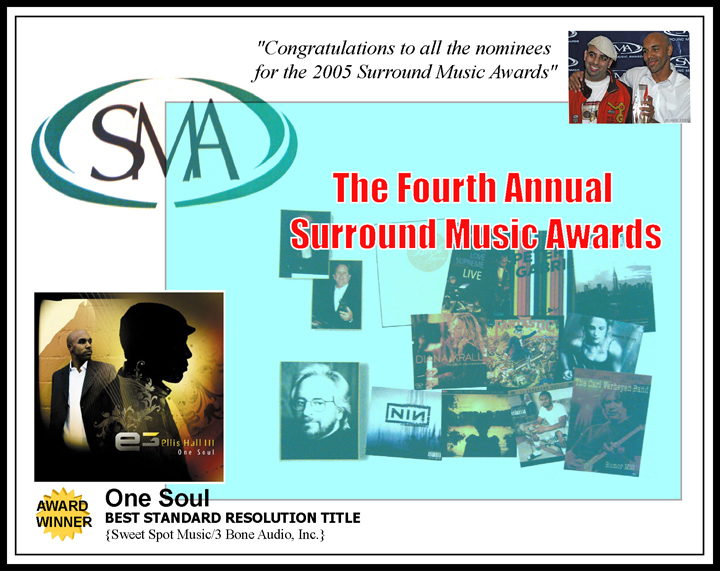 The recipients of the 2005 Surround Music Awards are as follows:
SURROUND ARTIST OF THE YEAR
JACKSON BROWNE
SURROUND PIONEER AWARD
PHIL RAMONE
BEST OF SHOW
TALKING HEADS DUAL-DISC BOX SET, Talking Heads (Rhino Entertainment)
BEST ADDITIONAL FEATURES
RUMOR MILL, The Carl Verheyen Band (AIX Records)

BEST CONCERT VIDEO
LIVE AT THE APOLLO, Ben Harper & the Blind Boys of Alabama (Virgin Records/5.1 Production Services)

BEST DUAL-DISC RELEASE
TALKING HEADS DUALDISC BOX SET - Talking Heads (Rhino Entertainment)

BEST MADE-FOR-SURROUND TITLE
DEADWING, Porcupine Tree (DTS Entertainment)

BEST MENU DESIGN
TALKING HEADS DUAL-DISC BOX SET, Talking Heads (Rhino Entertainment)

BEST MIX: NON-ORCHESTRAL
TALKING HEADS DUALDISC BOX SET, Talking Heads (Rhino Entertainment)

BEST MULTICHANNEL REISSUE
CAPTAIN FANTASTIC, Elton John (UME/Chronicles)

BEST STANDARD RESOLUTION TITLE
One Soul, E3 (Sweet Spot Music Group/3 Bone Audio, Inc.)
HORIZON AWARD
FEELS LIKE FAMILY, Lauren Ellis (Silverline Records)

MOST ADVENTUROUS MIX
IN SEARCH OF…, N.E.R.D. (Virgin Records/DTS)

BEST MIX: ORCHESTRAL
REICH AT THE ROXY, Alarm Will Sound (Sweetspot Music)
LISTENER'S CHOICE AWARD
MASTER OF DISASTER, John Hiatt (New West)